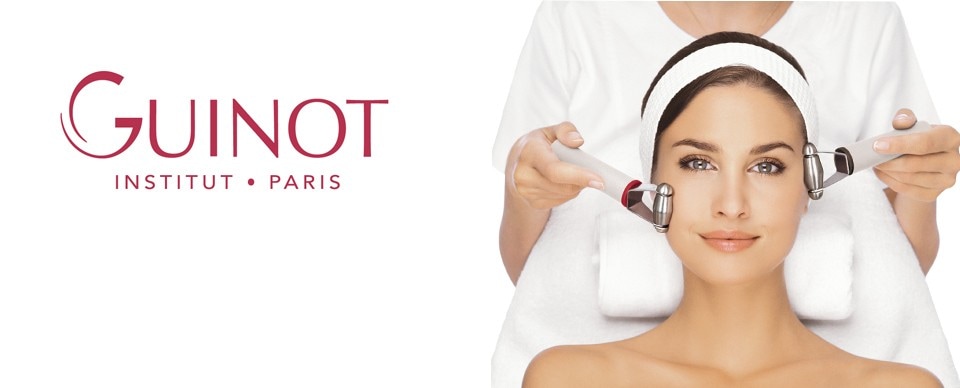 We are so proud to have received Guinot Regional Therapist 2019 and Crown Salon Award for 2019.

With over 50 years of experience, Guinot is a forerunner in the beauty care industry. Guinot believes that the effectiveness of a one hour treatment is incomparably more effective than just applying creams and serums. Guinot were the first brand to crate skin care products containing their Cellular Life Complex, which contains 56 active ingredients. This ingredient complex was also used in hospitals to create new skin,including the treatment of serious burn victims.
Guinot Research is constantly pushing the limits of effectiveness and performance to improve and find new treatment techniques and methods, using active ingredients. Guinot is constantly on the cutting edge of science and technology.


Guinot carries out the manufacturing of its products with pharmaceutical accuracy and diligence. Their laboratories are one of the few cosmetic manufacturing establishments that has been certified to the highest quality standard by the international certification group Bureau Veritas, ISO 22 716. This guarantees the highest quality of manufacturing standards. Their revolutionary salon treatments and after care products are formulated with the best in skin care innovation to enhance and maintain treatment results.


Guinot Technispa Double Slimming Effect Treatment

This amazing machine based treatment from Guinot breaks down cellulite, encourages slimming and reduces fluid retention using a sculptured head.

It works on new and well established cellulite. Due to the vacuum suctions psychical action, it breaks down adipose sites, increases blood circulation and lymphatic drainage. Using the galvanic current it helps penetrate the active ingredients of the serum. The serum contains Bromelain, (pineapple extract) which is a fat splitting enzyme, caffeine which burns and removes fat and reduces the absorption of fat and red seaweed which minimizes the storages of fast.

With the Galvanic current it also stimulates the muscles,which helps drain out toxins and skin tissue becomes firmer.


Guinot Lift Summum Facial

The latest Anti-Ageing firming facial from Guinot that feeds your skin and works from within. This 4 step manual facial works to fight against sagging skin by using Mahoganny Bark Root which stimulates production of Collagen XVIII. This is a molecule present in all layers of the skin and it improves elasticity and tone. Brown seaweed stimulates Hyaluronic Acid production which keeps suppleness and firmness and inhibits the degradation of dermal fibres.

Using filling spheres with Hyaluronic Acid, it fills in wrinkles and fine lines by binding water into the skin to inflate and hydrate the volume of the wrinkles. The movement of the tracer into each wrinkle with specific manoeuvres will rebalance the collapsed connective tissue, to fill in the deep furrow.

The face,neck and decollete masks contain Dynalift and stabilised Vitamin C and a biotechnological complex which forms a film on the skin for a tightening effect.
After 1 treatment there was a 47% increase noted in skin firmness and a 26.5% decrease in wrinkle depth.

Guinot Hydra Peeling Facials:

Guinot's HydraPeel treatments exfoliate, resurface, moisturize and renew the skin. Hydra Peeling with Hydra PH uses Phytic Acid while Hydra Peel with Hydrabrasion uses natural cellulose particles and papaya extract. Hydra Peeling offers two versions of the peeling component, the first with Acid PH for all skin types. The second, gentler, for sensitive skin with manual Hydrabrasion.
Both versions are completed with a skin regenerating cream and massage phase, finishing with a soothing, beauty enhancing mask. Both treatments minimize brown spots, smooth the texture of the skin, increase radiance, minimize signs of ageing and deeply moisturize the skin.

HYDRADERMIE YOUTH TREATMENTS( WITH HYDRADERM CELLULAR ENERGY)

Hydradermie Youth Treatment( with Hydraderm Cellular Energy)
The Alternative to Aesthetic Medicine
Guinot has created a revolutionary device that offers innovative treatment method that deliver spectacular results. By stimulating the skin's cellular activity and offering bespoke treatments based on your beauty objectives, this brand new machine boasts technology innovations and provides the ultimate treatment results.
Dynamic Ionisation which increases cellular activity
Thermal effect which increases oxygen and biological activity
Lifting stimulation stimulates and lifts the facial muscles giving an instant youthful look.



TECHNI- FIRMING/SLIMMING WRAPS:

These luxury wraps include a massage using the serum that the bandages are also soaked in, thus starting the process immediately.

In the slimming wrap the serum contains Caffeine and an Isoslim Complex, which combats the appearance of cellulite and stops the formation of new fat in the area. The Horse Chestnut stimulates drainage in the Lymphatic System & reduces Aqueous Cellulite.
Aqueous cellulite is a result of venous and lymphatic circulatory problems. Growing fat cells compress blood vessels, which causes water retention and toxins to build up.

In the Firming wrap, extracts of seaweed are used. Crelastin B is a powerful firming agent. It recreates the elasticity of the skin by stimulating elastic fibres and Collagen and boosting the molecules which protect these fibres.

Alaria Esculenta works against the enzyme which damages DNA in the skin. When this DNA is damaged, it causes the skin to slacken.
There is also a BiotechnologicalComplex which gives an immediate tightening effect on your skin.

AGE SUMMUMM FACIAL:


GUINOT'S NEW 4 Phase facial is the ultimate in anti-ageing.
Dermabrasion exfoliating cream rejuvenates skin's appearance and stimulates production of young cells, shea microbeads helps to cushion skin.

Regenerating Anti-Ageing serum with Cellular Life Complex and pure Vitamin C stimulates cell duplication working on the transdermal layers.

Age Summum facial massage, this helps the precious active ingredients from the hyaluoronic acid and DNA enriched serum penetrate deep down into the skin,stimulating collagen and elastin production in the skin.

Age Summum facial mask, enriched in pro collagen, targets visible lines on the surface of the skin.

Eye Lifting Treatment

Using an expert combination of machine technology, a specific hands on massage and a specially designed eye mask for maximum effectiveness, wrinkles and fine lines are diminished and smoothed away.


Using ATP, this deprogrammes skin cell ageing and gives energy to boost metabolism of the skin. Cellular Life Complex stimulates new skin cell growth and Eye Liss which decongest the eye area and treats dark circles.


46.7% average increase in skin firmness
40.2% average decrease in wrinkle depth
87.5% of subjects found their eye contour area rejuvenated.
100% of subjects found signs of fatigue in their eye contour erased.
100% of subjects found their dark circles and puffiness diminished.


LIFTOSOME

With age & fatigue, the skin slackens and loses its tone. This manual treatment is dedicated to the firmness and youthfulness of skin, thanks to the key active ingredient of Pro Collagen Concentrate and the Modeling effect of Thermolift Mask


GUINOT HYDRA CLEAN

Hydra Clean is designed to cleanse the face paying particular attention to the T-zone, thanks to the only treatment method of its kind in the world. Using a Thermoclean heating electrode it diffuses gentle heat that rids the skin of toxins and excess sebum. It acts on both seweat and sebaceous glands

Clinically Proven Results:
93% of blemishes on the skin
97% reduction in size of blemishes
2.3% of radiance in the complexion after a treatment.

This 30 minute treatment combines cleansing and relaxing massage leaving skin clear and radiant. Ideal for clients with smaller budgets and clients who do not have alot of time but want excellent results.